Golden Gate Fields Results
< Golden Gate Fields Results for December 04, 2022
---
Golden Gate Fields Race Results
December 04, 2022
December 03, 2022
December 02, 2022
November 27, 2022
November 26, 2022
November 25, 2022
November 24, 2022
November 20, 2022
November 19, 2022
November 18, 2022
November 13, 2022
November 12, 2022
November 11, 2022
November 06, 2022
November 05, 2022
November 04, 2022
October 30, 2022
October 29, 2022
October 28, 2022
October 23, 2022
October 22, 2022
October 02, 2022
October 01, 2022
September 30, 2022
September 25, 2022
September 24, 2022
September 23, 2022
September 18, 2022
September 17, 2022
Instant access for today's Golden Gate Fields Race Results, Entries, Post Positions, Payouts, Jockeys, Scratches, Conditions & Purses.
Golden Gate Fields Information
Golden Gate Fields is a horse racing track straddling both Albany, California and Berkeley, California along the shoreline of San Francisco Bay adjacent to the Eastshore Freeway in the San Francisco Bay Area. With the closing of the Bay Meadows racetrack on May 11, 2008, it became the only major racetrack in Northern California.
The track is set on 140 acres (0.57 km2) of land in the cities of Albany and Berkeley. Golden Gate Fields' facilities currently include a one-mile (1,609 m) synthetic track and a turf course measuring 9/10 of a mile, or 7 furlongs plus 132 feet (1,448 m), stalls for 1,420 horses, a main grandstand with seating for approximately 8,000 customers, a clubhouse with seating for approximately 5,200 customers, a Turf Club with seating for approximately 1,500 customers and parking for over 8,500 cars.
Golden Gates Fields features a Tapeta main track that is impervious to weather and never turns to mud. The engineered track made Golden Gate Fields the eighth horseracing facility in the country to install the advanced racing surface. Tracks using the engineered surfaces have found them to be safer and kinder to horses in all kinds of weather.
Golden Gate Fields Information Thoroughbred Racing
1100 Eastshore Highway, Berkeley, CA US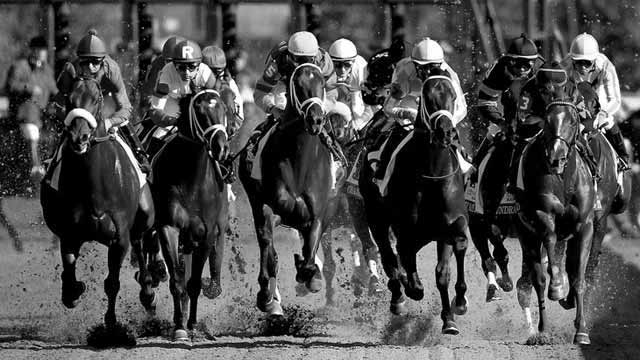 Bet Horse Racing with OTB