Saudi Cup 2022 - Emblem Road Wins Worlds Richest Race

Saudi Cup Press Release
Updated:
January 12, 2022
Bet the Saudi Cup online with OffTrackBetting.com - US Legal Online Wagering
The Saudi Cup is a race for thoroughbreds aged four and up, to be run at weight-for-age terms over 1800m (9f), worth $20 Million (USD) with a prize of $10 Million (USD) to the winner.
When is the 2022 Saudi Cup?
On
Saturday February 26th, 2022
, an afternoon and evening also including an undercard of international contests on the new inside turf course and on the dirt.
Where is the Saudi Cup?
The Saudi Cup is raced on the one-turn dirt oval at King Abdulaziz Racetrack, Riyadh, the capital of Saudi Arabia.
Emblem Road Wins the 2022 Saudi Cup
Waves of pride and emotion pulsed through King Abdulaziz Racecourse in Riyadh on Saturday evening as unheralded local runner Emblem Road (USA) snatched the richest race ever staged, the US $20 million Group 1 The Saudi Cup.
A deafening crescendo climaxed in joy and near disbelief as jockey Wigberto Ramos coaxed Emblem Road down the centre of the track for a half-length margin from USA challengers Country Grammar (USA) and Midnight Bourbon (USA).
For Saudi Arabian racing, this was an extraordinary result. Emblem Road, a four-year-old American-bred son of Quality Road, had only raced in Saudi Arabia, where he was taking his record to eight wins from 11 starts. He was prepared by trainer Mitab Almulawah and carried the white and blue silks of Prince Saud bin Salman Abdulaziz.
This was a race packed with Group 1 champions and there was no element of fluke. Searing early fractions were set by Secret Ambition (GB) and Art Collector (USA). Close-up in the run were last year's Mishriff (IRE), caught wide, and Kentucky Derby winner Mandaloun (USA). But one by one the challengers melted away. The Japanese star TO Keynes (JPN) could not add to the incredible haul by his compatriots earlier in the evening.
All the while, Panamanian-born rider Ramos stalked the pace in midfield, but with cover, before scything down the brave Country Grammer inside the final 50m to cue one of the greatest shocks - and celebrations - ever seen in Saudi racing. The winning time was 1:50.52.
Quotes:
Prince Bandar Bin Khalid Al Faisal, Chairman of the Jockey Club of Saudi
Arabia: "Wow. To have a locally trained horse perform that way is very emotional. I'm very happy for the connections, and I'm happy for Saudi Arabia. I think Mishriff, a Saudi Arabian-owned horse [the 2021 The Saudi Cup winner], did amazing things to spread the love of horses. And to have a locally-trained horse win it [The Saudi Cup] is extremely special, and I'm really excited about what this means for the future of horse racing in Saudi Arabia."
Hisham Wahed, stable representative, Emblem Road, 1st: "Emblem Road had trained really well and I thought that he was going better than Making Miracles. Keeping The Saudi Cup here in the Kingdom - that is the best thing, it is a great feeling. All the people here are happy that we keep it in Saudi Arabia."
Wigberto Ramos, jockey, Emblem Road, 1st: "My horse ran a great race and I broke good and my horse was very strong. He wanted to go early, but I took my time with him and took a little hold and saw another horse, so then I just waited for the 500m to ask him. The key on this track is that you have to be near the front when you pass the 800m. If you're near, you are in a good position and outside is the best part of the track. It's a big turn, so when you put a horse who comes from behind all the way on the outside, they finish a lot better. I knew that I could do it, but now that I've done it, I still don't believe it. I beat so many good horses and this is the biggest race in the world. I think he could go on to the Dubai World Cup. He's the kind of horse who can do it."
Flavien Prat, jockey, Country Grammer, 2nd: "He ran great. When I pulled away I thought I was going to win, I thought it was going to be enough and that my horse was doing the hardest, but the winner was just too good and finished harder."
Joel Rosario, jockey, Midnight Bourbon, 3rd: "I thought he ran really well; it was probably a little bit different with him but he showed heart, he did great."
Other quotes:
Vagner Leal, jockey, Aero Trem, 5th: "I got a perfect trip with him. In the first turn I was able to get a good position on the inside path. I looked for clean air in the end. He ran great."
Antonio Cintra, trainer, Aero Trem: "This result is like a win for Uruguay. We are very happy and confident in our training programme."
Christophe Soumillon, jockey, Marche Lorraine, 6th: "She jumped out very well. Unfortunately, seven or eight horses inside kept their positions, so I couldn't sit close to the pace. Just before the turn I saw a nice gap to come to the inside, so I asked her to go there. I was very confident when I turned the corner. She was travelling so easily and I saw two of the favourite horses - Mishriff and Mandaloun - stopped completely in the turn, so I thought she was ready to go. The distance was a little short for her. She proved she was a great mare and she did a great job."
Kohei Matsuyama, jockey, T O Keynes, 8th: "He jumped well from the gate, but the pace never got settled, so he could not follow the pace and wasted him a lot."
Florent Geroux, jockey, Mandaloun, 9th: "No good. He just wasn't there today. We knew the locals were good horses but we thought the outside horses might be better."
Frankie Dettori, jockey, Real World, 11th: "No action. He didn't like the dirt."
Ryan Moore, jockey, Sealiway, 13th: "He started really well. He had more speed than I expected and the pace was strong, and once he got shuffled back he got some kickback and he didn't know what to do. He's a good horse."
Francis-Henri Graffard, trainer, Sealiway: "I'm upset to see such a good horse finishing in this way but the only thing we didn't know before we raced was if he would enjoy the kickback or not. He was travelling nicely but as soon as he received some kickback in his face, he stopped."
David Egan, jockey, Mishriff, 14th: "He didn't jump as sharp as last time but I did a similar thing and kept him out wide. He got there with ease but once I turned into the bend I was struggling from a long way out. I hope he's alright, there's obviously something amiss. He's better than that."
Pre-Draw News
Midnight Bourbon and Mandaloun To Renew Rivalry In 2022 Saudi Cup
FEB 9 - American stars Mandaloun and Midnight Bourbon will renew their rivalry in the $20 million Saudi Cup.
The pair clashed in last month's Grade 3 Louisiana Stakes at Fair Grounds when Mandaloun came out on top by three-quarters of a length.
Now they will go head-to-head again in the world's most valuable race, run over nine furlongs on the dirt track at King Abdulaziz Racecourse in Riyadh on Saturday, Feb. 26.
The Louisiana Stakes was Mandaloun's first run since he was awarded the G1 Haskell Stakes at Monmouth Park in July when Hot Rod Charlie was disqualified for impeding Midnight Bourbon after passing the winning post a nose in front.
A setback prematurely ended the Kentucky Derby runner-up's 3-year-old season, and his trainer Brad Cox believes he is still improving ahead of his trip to Saudi for the world's most valuable fixture.
He said: "Mandaloun ran a really big race at Fair Grounds in the Louisiana Stakes. It was his first run in a while and he appears to have come out of it in great order - he had a good workout on Sunday morning.
"He seems to have moved forward from three to four. If he moves forward again, he's going to be tough in The Saudi Cup.
"I always thought he was a Grade 1 horse, so it was important for us and for Juddmonte to try to win a Grade 1 with him and add him to the stallion roster.
"Obviously, he was awarded the Grade 1 in the Haskell Stakes. Out of the Haskell he just wasn't quite right behind and we just gave him the time he needed.
"He's come back bigger and stronger. Florent (Geroux) rode him and he said as soon as he came back that he was a more polished horse mentally. That gives us a lot of confidence moving forward.
"I think the track will be fine. He's a horse who's capable of being where we need him to be in a race. He's able to adjust to the pace - if it's slow he can be up close, if it's fast he can sit off it.
"A one-turn mile-and-an-eighth (1800m) is not something we get much in America, Belmont is the only place, but I'm confident he'll be able to handle it.
"The Saudi Cup has not been around long but it's definitely grabbed the attention of the entire world. It's becoming a race on everyone's calendar and if we were capable of winning it for Juddmonte it would obviously mean a tremendous amount."
Despite finishing behind Mandaloun in the Louisiana Stakes and last year's Kentucky Derby, when he endured a troubled passage, Midnight Bourbon's trainer Steve Asmussen has high hopes his stable star will finally claim his big-race victory.
The colt hasn't enjoyed much luck during his career. He unseated Paco Lopez when hampered as he made his challenge in the Haskell Stakes and his trainer believes the ability is there to be a champion.
Asmussen said: "He has an elite level of talent without finishing it off at this stage. He's not had the success his ability would allow but it also leaves a lot for us moving forward.
"He is still in a physical and mental development that I think allows for him to possibly end up being the best horse in training in the world this year.
"The only time he's missed the break in his life was in the Kentucky Derby which was won by a horse (Medina Spirit) he breaks next to in the Preakness and runs into the ground.
"It's one thing after another but it's there, it just needs to come together. I'm hoping beyond hope and expecting that he's waiting for The Saudi Cup stage to put it all together perfectly."
Jockey Joel Rosario rode Midnight Bourbon in the Louisiana Stakes and he will keep the ride in the Group 1 Saudi Cup. He will need to reverse that form with Mandaloun but Asmussen believes last month's race will put the edge on his big race hope.
He said: "That was his prep for The Saudi Cup, not The Saudi Cup. He came out of it in better shape than he went into it. It was a very good exercise.
"I know from the preparation going into his last race, how he's come out of it and how he's worked since, that we are jumping forward.
"His numbers are very competitive with any horse in the world - the numbers being the speed he has attained. We just have to finish it off.
"He is considerably more mature in his approach to training than he has been in the past. He had a beautiful work on Sunday at Fair Grounds. He came out of it in great shape and he went back to the track very well on Tuesday morning.
"I will look for something a touch better, not significantly better, this coming Sunday. Then he will van from New Orleans to Palm Meadows and fly out from there."
The American pair will attempt to wrestle The Saudi Cup crown from last year's winner Mishriff. He was reported to be in good shape ahead of the world's most valuable race by joint-trainer Thady Gosden on Tuesday.
Reigning Saudi Cup Champion Mishriff Returns for 2022
The 2022 Saudi Cup meeting has attracted over 700 entries from 22 different countries, including a remarkable 71 international Group 1 winners, all vying to pick up some of the $35.1 million prize money across the two-day meeting on Friday, Feb. 25 and Saturday, Feb. 26.
Reigning Saudi Cup champion Mishriff has already achieved impressive career earnings of $15 million, a figure that currently leaves him ninth in the list of all-time highest earning Thoroughbreds. If he were to record a historic second successive triumph in the third running of The Saudi Cup (1 1/8 miles), which will be run as a Group 1 for the first time, he would become the highest earning racehorse of all time, eclipsing Australian wondermare Winx.
Japan, a country that won two races on last year's Saudi Cup card, is responsible for over 90 entries at the meeting and is set to be represented in The Saudi Cup by T O Keynes, most recently seen landing the Champions Cup, a qualifying race for The Saudi Cup. Breeders' Cup Distaff winner Marche Lorraine is another who could take her place in the $20 million contest.
There is a strong US contingent with over 150 entries, including a number of high-profile contenders for The Saudi Cup. Breeders' Cup Classic winner and 2021 Saudi Cup fourth Knicks Go has been given an entry, along with Breeders' Cup Dirt Mile champion Life Is Good. Other possible runners from the US include Hot Rod Charlie, Mandaloun, and Midnight Bourbon.
South American superstar Aero Trem, currently in Dubai, has been entered, while there are some interesting European contenders, including Group 1 winners Sealiway, Skaletti, and Pyledriver.
2022 Saudi Cup Undercard
The $2.5 million Group 3 Red Sea Turf Handicap (3000m) has attracted entries from 15 different countries. Japan Cup runner up Authority (JPN) and Deep Bond (JPN) could represent Japan, while Sisfahan (FR), Sonnyboyliston (IRE), Princess Zoe (GER) and Nayef Road (IRE) make up a deep European contingent.
Hollie Doyle landed the 2100m Group 3 Neom Turf Cup ($1.5 million, up from $1 million in 2021) on True Self last year, and there are some strong global entries including Lord North (IRE), Pyledriver (GB), Grand Glory (GB), Square De Luynes (FR) and the evergreen Lord Glitters (FR) from Europe. Japan have Authority (JPN), Sanrei Pocket (JPN) and So Valiant (JPN) entered, while Colonel Liam (USA) could run for America.
The Japanese have a strong entry in the Group 3 1351 Turf Sprint ($1.5 million up from $1 million in 2021), where Grenadier Guards (JPN) is guaranteed a spot after winning the Hanshin Cup. He could meet Ho O Amazon (JPN) and Songline (JPN), with Breeders' Cup Turf Sprint runner-up Lieutenant Dan (USA) an interesting US entry.
In the $1.5 million Group 3 Riyadh Dirt Sprint (1200m), the US look to hold a strong hand with Group 1 winners Dr Schivel (USA) and Kimari (USA), as well as the promising Cezanne (USA). The nine-year-old Secret Ambition (GB) could line-up, while last year's winner Copano Kicking (USA) is entered to defend his crown for Japan.
A strong Latin American entry includes both Irwin (ARG) and Prelude Rye (ARG) in the 1600m G3 Saudi Derby ($1.5 million). Smile Happy (USA), Newgrange (USA), MacKinnon (USA) and Rockefeller (USA) are possible runners from the US, and in the $2 million G2 Obaiya Arabian Classic, last year's one-two, the locally-trained stablemates Mubasher Alkhalediah (KSA) and Mutwakel Alkhalediah (KSA) are set to take each other on again.
International Jockeys Challenge, Saudi International Handicap and Al Mneefah on Friday
The highlight on the opening day of the meeting (Friday 25 February) is the stc International Jockeys Challenge where seven female and seven male jockeys from around the world compete against each other. Last year's winner Shane Foley from Ireland is back to defend his crown and other jockeys confirmed at this stage are the UK's Hayley Turner and Glen Boss from Australia.
Friday sees the second running of the $500k Saudi International Handicap, a race designed for horses trained in IFHA Part II or Part III countries, with horses entered from ten countries: Bahrain, Czech Republic, Greece, Italy, Norway, Qatar, Saudi Arabia, Spain, Sweden and Uruguay.
A new addition to the Friday card is the Listed Al Mneefah Cup, an international race for Purebred Arabians over 2100m on turf with prize money of $1 million.
Tom Ryan, Director of Strategy and International Racing at the Jockey Club of Saudi Arabia, said: "We couldn't be happier with the entries for the 2022 Saudi Cup meeting. Not only do we have a huge number, over 300 more than last year, but the quality is exceptional with 71 individual Group 1 winners, including last year's Saudi Cup champion Mishriff.
"We are also absolutely delighted to see that more countries have made entries, with 22 in total compared with 19 in 2021. That goes to show how quickly the Saudi Cup meeting has had an impact globally and become a key target for owners and trainers.
"It was such a proud moment for everyone at the Jockey Club of Saudi Arabia when The Saudi Cup was promoted to a Group 1, as well as the supporting races achieving Group 3 status and the Obaiya Classic being upgraded from a Listed content to a Group 2. The support we have received from horsemen and women all over the world has been incredible and we look forward to welcoming everyone to Riyadh next month."
SAUDI CUP 2022
1800m (9f) on dirt | Total race value: $20,000,000
$10,000,000 to the winning horse.
The second to receive $3,500,000, the third $2,000,000, the fourth $1,500,000, the fifth $1,000,000, the sixth $600,000, the seventh $500,000, the eighth $400,000, the ninth $300,000, the tenth $200,000.
Open to Northern Hemisphere four-year-olds and upwards and Southern Hemisphere three-year-olds and upwards.
Free to enter and free to run.
Supplementary entry for non-original entries: $200,000.
Weights: Northern Hemisphere and Southern Hemisphere four-year-olds and upwards: 57kg / 126lb. Southern Hemisphere three-year-olds: 53.5kg / 118lb. Fillies and mares allowed 2kg / 4lb.
Maximum field size: 14 runners.
Lasix and Bute will not be allowed in the Saudi Cup.
Horses who finish first, second or third in the Pegasus World Cup will be invited for the Saudi Cup even if not previously entered.
About the Saudi Cup
Organised by the Jockey Club of Saudi Arabia and run at the King Abdulaziz Racecourse in Riyadh, Saudi Arabia, the Saudi Cup is a two-day festival of international racing headlined by the USD$20M Saudi Cup - the world's most valuable race.
Established in 2020 with the second renewal set to be run on Saturday February 20, 2022, the Saudi Cup day card carries a total prize purse of $30.5m and features dirt and turf races for the highest calibre racehorses in the world.
A full card of racing on the preceding Friday includes an International Jockeys Challenge which sees seven female and seven male jockeys compete as individuals as well as the $500,000 Saudi International Handicap for horses trained in IFHA-registered Part II and III racing countries.
The Saudi Cup is charged with raising awareness of horse racing in the country and encouraging participation among men and women throughout the sport. It also aims to promote Saudi Arabia at international level, acting as a marker for the Kingdom's transformational journey, encouraging tourism and investment.
The inaugural running of The Saudi Cup (2020) saw 22 Group or Grade 1 winners compete across an eight-race card for a total prize pot of USD$29.2M. In 2022 the prize purse has been increased to $30.5M and the number of Group and Grade 1 winners entered to run went up to 31.
Adding even more international flavor in February 2022 is the newly founded $500,000 Saudi International Handicap, introduced for horses trained in developing racing nations.
SAUDI CUP CHAIRMAN'S WELCOME MESSAGE
Chairman - Prince Bandar Bin Khalid Al Faisal
Welcome to the Saudi Cup 2022.
This is an exciting milestone for the Jockey Club of Saudi Arabia as we look forward to the second staging of what is certainly the most significant development in the country's horse racing history.
The first ever Saudi Cup meeting featured 22 Group or Grade 1 winners, who had accumulated 34 wins at that level between them. We had runners from ten different countries and celebrated five overseas winners across eight races.
As part of the inaugural event, we welcomed the first women to ride under rules in Saudi Arabia and witnessed four-time New Zealand champion Lisa Allpress become the first female jockey to win a race in the Kingdom. This was part of the International Jockeys' Challenge in which 14 of the world's best male and female jockeys took part, with Sibylle Vogt being crowned champion.
We have a lot to live up to in 2022 and to reflect our commitment to the sport we have increased the meeting's prize money and introduced a new race aimed at horses from Part 2 and Part 3 racing nations.
The world in which we now find ourselves looks very different to the one in which we began this exciting journey just 12 months ago, yet racing is a resilient sport and all over the world it has found a way to continue despite the effects of the global pandemic.
We have learned from all the jurisdictions who have successfully staged big race days and are working alongside the authorities to deliver the safest and most accessible event we can.
Sadly, due to the effects of Covid-19, The Saudi Cup 2022 is an invite-only event held behind closed doors and observing strict covid-19 safety protocols.
Yet we want to showcase the world's best racehorses to as many people as possible and we invite all race fans, near and far, to tune in and join us on the biggest adventure in Saudi Arabian racing - the second running of world's most valuable race, The Saudi Cup 2022.
Can't make it to the track?
Wager on the Saudi Cup with OffTrackBetting.com and watch free, high-quality video online or with your mobile device. OffTrackBetting.com is US-based and legal and licensed, and we promise you superior customer service and the best online wagering experience in the industry.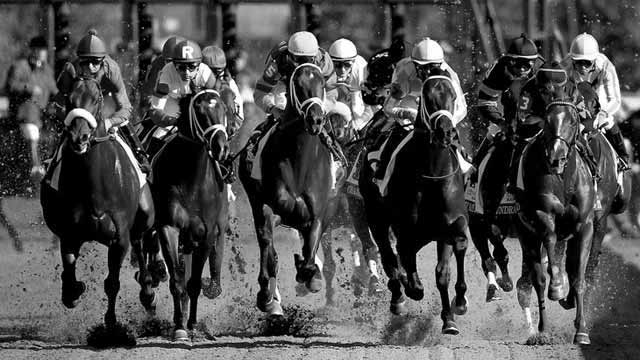 Bet Horse Racing with OTB