Dubai World Cup 2022

Dubai Racing Club Press Release
Bet the Dubai World Cup online with OffTrackBetting.com - US Legal Online Wagering
The Dubai World Cup, held at Meydan Racecourse, is the world's richest horse racing event, featuring a massive purse of $30.5 million. Wager on this exciting annual event online with OTB!
When was the 2022 Dubai World Cup?
On
Saturday March 26th, 2022
.
Where is the Dubai World Cup raced?
The Dubai World Cup is raced at Meydan Racecourse, Dubai, UAE.
Dubai World Cup 2022
1 1/4 m (Dirt) | Total race value: $30,500,000
2022 Location: Meydan Racecourse; Dubai, United Arab Emirates
Inaugural Race: 1996
Distance: 2,000 metres (about 10 furlongs)
Track Type: Left-handed, Dirt
Age Qualifications: Northern Hemisphere 4yo+ & Southern Hemisphere 3yo+
2022 Purse: $30.5 million.
2022 Race Date: Saturday, March 26
Where to Watch: NBC Sports and online at OffTrackBetting.com
Country Grammer and Dettori Win the 2022 Dubai World Cup
It was a fourth victory in the Group 1 Dubai World Cup for for both trainer Bob Baffert and jockey Frankie Dettori, with the latter timing his ride to perfection aboard the game Country Grammer. The Saudi Cup runner-up hunted down longtime leader Life Is Good in the final furlong of the 2000-metre dirt contest to win by a length and three-quarters.
The Todd Pletcher-trained Life Is Good set the pace under Irad Ortiz Jr., with Steve Asmussen's charge Midnight Bourbon taking close orders. Turning for home, Ortiz Jr asked Life Is Good for an extra effort and started to kick clear. However, Country Grammer was not finished, and with Dettori urging him along the straight, he took command as Life Is Good faded into fourth. The rallying Hot Rod Charlie claimed second for Doug O'Neill with Flavien Prat up, while Ryuji Okubo's Chuwa Wizard, who was runner-up in last year's race, was a further half-length behind in third.
Amr Zedan, co-owner of Country Grammar with WinStar Farm and Commonwealth Thoroughbreds, said: "I mean, I don't have any voice left after that! It was a project - we picked the horse and he has come here in the care of the best trainer in the world in Bob Baffert. Deep down in my gut I knew we had a shot. I have huge respect for all the others, especially Life Is Good who I know intimately as he used to train with Country Grammar when he was with Baffert."
Zedan continued: "This win reminds me of Medina Spirit. He was a champion and these horses are all heart. I hope Medina Spirit is reinstalled as the Kentucky Derby winner, God willing. I can't believe I'm sitting here and my silks are here!
"I am just very thankful to the entire team and Frankie, who gave him a perfect ride. He is one of the best, if not the best. Results speak louder than words. A trainer of that calibre is bound to produce such results. I am just dedicating this race to him."
Jimmy Barnes, assistant trainer to Bob Baffert, said: "It's been a long trip, Frankie just rode him awesome. He couldn't have done any better. The speed worked out just as we thought it would, he put him in a close enough spot that when he called upon him, he's a true mile-and-a-quarter horse and it kicked in. I give a lot of credit to Bob Baffert for his ability to come back and perform, it's what we do, we're great off a lay-off. I'm just so excited. I was here when Arrogate won the Dubai World Cup, so this is my second with Bob and it is very, very special."
Frankie Dettori, who first won the Dubai World Cup for Godolphin aboard the great Dubai Millennium in 2000, said: "I have equalled Jerry Bailey now. All my other three wins came on the Nad Al Sheba track so it's nice to have a winner at Meydan.
"When the draw came out, I had just wanted to put him on the fence. At the half-mile, I wasn't able to keep on with the front two but in the end they came back to me. At the furlong pole, it was surreal as I knew I was going to win. It's just unbelievable. It's like a dream!"
Doug O'Neill, trainer of runner-up Hot Rod Charlie, said: "He had a great run and congratulations to Bob Baffert for getting his horse ready the way he did. We're super proud, Leandro Mora and all the guys have been here the whole time and they've done a great job.
"We wanted to win of course but we're super proud and mid-race we were thinking it just wasn't Charlie's day. He then re-engaged and got up for second so it was a great night."
He continued: "These are one of the few times that you wish horses could talk. I think maybe blinkers might need to go back on - he broke okay but then when he got behind horses, maybe that was it. Flavien said he took the kickback pretty well though, so we'll re-group and we'll give him plenty of time now and we'll huddle up and think of a game plan."
Flavien Prat, rider of Hot Rod Charlie, added: "We broke well and I got myself into the rail. Then we were travelling really well down the far side and he then needed to dig in and we got a nice run down the lane."
Yuga Kawada, rider of third-placed Chuwa Wizard, said: "It was a good place. He was second last year and this year he was third so it was a very strong race and a very good run. He's matched last year's performance today and we're very happy."
4th - Life Is Good, jockey Irad Ortiz Jr said: "We led like we wanted. It was just the distance. The extra distance told."
5th - Midnight Bourbon, jockey Jose Ortiz said: "We raced on the pace in second. I was disappointed with how he finished."
6th - Remorse, jockey Tadhg O'Shea said: "Great credit to him for that run. He came under pressure a fair way out but he kept responding for me."
7th - Hypothetical, jockey Mickael Barzalona said: "I'm very happy with his run. He was still there at the turn but in the end he was beaten by better horses."
8th - Aero Trem, jockey Vagner Leal said: "He didn't run like he did in Saudi. He wasn't the same."
9th - Real World, jockey Christophe Soumillon said: "He didn't handle the dirt."
10th - Magny Cours, jockey William Buick said: "He was never going."
New Incentives Announced For 2022 Dubai World Cup Carnival
A range of new incentives have been unveiled for the 2022 Dubai World Cup Carnival, which gets underway on Thursday, January 13.
Dubai Racing Club is pleased to be able to offer new benefits for trainers and owners sending horses to Dubai to compete in the 2022 Dubai World Cup Carnival, for which the total prize money exceeds $7.5 million. These include two return Business Class flights for trainers, in addition to three nights' accommodation at a DRC-associated hotel. Owners (one representative) will receive one Business Class return flight to use during the Carnival.
Dubai Racing Club will also subsidize travel for stable staff, with one Economy Class return flight provided for one groom for up to two horses, flights for two people for three to four horses, and so on. Accommodation for grooms is provided within the International and Dubai World Cup Quarantine complex, adjacent to Meydan Racecourse.
There is no cost to connections for stabling or use of Meydan Racecourse's extensive training facilities. The separate training track complex, which has turf and Tapeta tracks, will shortly be upgraded to maintain the safety of horses and riders. This is part of a plan by Dubai Racing Club to develop all facilities in preparation for the Carnival and Dubai World Cup meetings.
The 2022 Dubai World Cup Carnival commences on Thursday 13th January and runs until Super Saturday on March 5th, while the $30.5 million Dubai World Cup meeting takes place on Saturday, March 26. Several new races have been announced for the forthcoming running of the Carnival; the 19th edition. These include the 'Jumeirah Turf Series', for 3-year-olds, featuring the $200,000 Jumeirah Derby on Feb. 24, and the $300,000 Ras Al Khor, over seven furlongs on turf, on Super Saturday.
Stephanie Cooley, DRC International Liaison, is looking forward to welcoming overseas horses owners, trainers and jockeys back to Meydan Racecourse.
"I'm delighted with what we're able to offer this year as extra incentives for international horsemen," she commented. "Maintaining relationships with these owners and trainers is a key priority; they are integral to putting on our highly regarded Carnival. Last season was a challenging time due to worldwide restrictions on travel, so we were delighted to celebrate winners from Europe, South America and closer to home in the Middle East.
"The fact that we can introduce more prize money and incentives for 2022 can only boost the continuous support from our horsemen as well as bringing new players to Dubai."
Can't make it to the track?
Wager on the Dubai World Cup with OffTrackBetting.com and watch, high-quality video online or with your mobile device. OffTrackBetting.com is US-based and legal and licensed, and we promise you superior customer service and the best online wagering experience in the industry.
About the Dubai World Cup
The Dubai World Cup was conceived by Sheikh Mohammed bin Rashid Al Maktoum in 1996. Up until 2017, it was the world's richest race with a purse of $10M USD made available. It was briefly surpassed by the $12M Pegasus World Cup. Following the reduction of the Pegasus World Cup purse and the increase of the Dubai World Cup purse in 2019 to $12M USD, the UAE once again hosts the world's richest horse racing prize.
Before migrating to the Meydan Racecourse, which opened in 2010, the Dubai World Cup was hosted at the Nad Al Sheba Racecourse.
The next renewal of the Dubai World Cup will be on Saturday, March 27th, 2021 and once again hold a purse of $12M USD. This follows the cancellation of the event in 2020 due to the COVID-19 pandemic.
Some of the best racehorses produced by the United States have travelled to the Dubai World Cup and won. These include Arrogate (2017), California Chrome (2016), Animal Kingdom (2013), Well Armed (2009), Curlin (2008), Electrocutionist (2006), Roses in May (2005), Pleasantly Perfect (2003), Silver Charm (1998) and Cigar (1996). In fact, Cigar won the inaugural running of this race.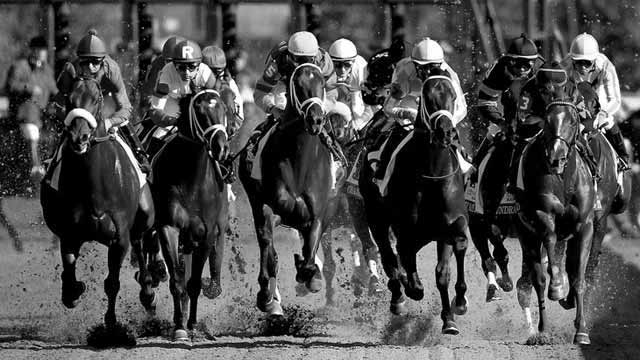 Bet Horse Racing with OTB