Pocono Downs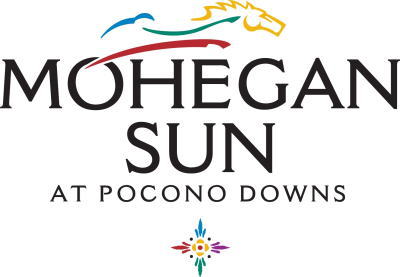 Pocono Downs Raceway is a harness racing track and casino near Wilkes-Barre, Pennsylvania. It's widely acknowledged as one of the best smaller-sized tracks in America. Pocono Downs Raceway has a 5/8-mile oval track with a 490 feet stretch. Its surface is stone aggregate base and the body is stone dust with a red rock screenings top layer. The casino features over 2,300 slots, over 80 table games including blackjack, roulette and a 18-table poker room. The Grandstand can accommodate up to 3,000 and the reservation only Pacer's Clubhouse can hold 400. The stables hold up to 900 horses.
Pocono Downs Raceway hosts several important harness racing stakes events each year. Among these are the Pennsylvania Sires Stakes, the Max Hempt Memorial Pace, the James Lynch Memorial Pace and the Reynolds Stakes.
---
Pocono Downs History
Mohegan Sun at Pocono Downs is located on 400 acres in the hillside of Plains, Pennsylvania. It is within easy access of New York, Philadelphia, New Jersey and Delaware and just a short distance from other great northeastern Pennsylvania attractions such as Knoebels Amusement Resort in Elysburg, Blue Ridge Trail Golf Club in Mountain Top and Claws 'N' Paws Wild Animal Park in Hamlin.
Owned by the Mohegan Tribe of Indians of Connecticut, it is one of the largest and most distinctive and spectacular entertainment, gaming, shopping and dining destinations in Pennsylvania. Since it was acquired in November 2005, Mohegan Sun at Pocono Downs has continued to evolve and grow.
Mohegan Sun at Pocono Downs has approximately 82,000 square feet of gaming space and is home to nearly 2,300 slot machines and electronic table games. In July 2010, Mohegan Sun at Pocono Downs made state history by being one of the first casinos in Pennsylvania to add live table games such as Blackjack, Roulette, Craps and more. In total, Mohegan Sun at Pocono Downs is home to over 80 table games including poker, blackjack, roulette and craps, among others.
The property features live entertainment with the best local bands every weekend at Breakers and Bar Louie. In addition, only a short distance away, is the 8,300-seat Mohegan Sun Arena at Casey Plaza which features the biggest acts in music, sports and more as well as being home to the American Hockey League's and Wilkes-Barre's own the Wilkes-Barre/Scranton Penguins.
Just steps from the gaming action, Mohegan Sun at Pocono Downs offers a number of food and beverage outlets with everything from snacks and sandwiches to steaks, fresh seafood and gourmet international cuisine.
The retail experience at Mohegan Sun at Pocono Downs offers guests a variety of choices from fine apparel to jewelry, electronics and gadgets, gourmet food items and more.
Mohegan Sun acquired the Pocono Downs racetrack from Penn National Gaming on January 25, 2005 at a cost of $280 million. Mohegan Sun renamed the property "Mohegan Sun at Pocono Downs", and began a major expansion. Improvents included a renovated grandstand area with two floors of slot machines, office space and a food court and a new simulcast area. It began operations in November 2006 and was the first slots casino in the state of Pennsylvania.
In January 2010, then Governor Ed Rendell signed a bill to legalize table games in Pennsylvania. The Mohegan Sun casino was among the first to receive approval for table games, and planned to hire 600 new employees for the expansion. Table games began operations on July 13, 2010.
Pocono Downs first opened its doors July 15, 1965, when more than 12,000 fans jammed the infield, clubhouse and grandstand to see the "new kid" on the block, joining its racing neighbors, Liberty Bell, to the south, and the Meadows to the west. The race track costs an estimated $7 million to build and among its founders were James and Anna Jean Durkin.
From 1970 to 1980, thoroughbred racing was held at Pocono Downs when the Shamrock Racing Association shared the track. Pocono Downs briefly ceased operations in mid-1972 and served as an evacuation center for residents displaced by the great flood brought about by hurricane Agnes, at the time, one of the country's largest natural disasters.
Penn National Gaming, Inc., the track's parent company, purchased Pocono Downs for $47 million in November of 1996 from the estate of the late Joseph B. Banks.
First winner of that initial season was Satin Queen. During those early years it was unheard of a pacer or trotter breaking the two-minute mile barrier. The track record in that inaugural season was 2:004, established by a horse named Heineken. Record for a trotter was 2:02.2 and registered by Singing Arrow.
From 1965 through 1981 there were only 100 horses that broke the two-minute time. Now there are thousands of two-minute miles every season.
While harness tracks such as Liberty Bell, Brandywine and Roosevelt have closed, Pocono Downs continues to be one of the best smaller-sized tracks in North America and the tradition continues.
Track mark today stands at 1:49.4, recorded by Yankee Finale July 10, 2005 with Cat Manzi in the bike. It's the only sub-150 mile ever timed at the Northeastern Pennsylvania racetrack.
Two horses currently own the track mark for fastest trots ever. They are SJ's Caviar, established July 22, 2001 with Robert Blanton, Jr., driving, and Armbro Barrister, trotting that mile May 10, 2005, with Ray Schnittker in the bike.


---
Pocono Downs Live Horse Racing Schedule
March - November

---
Post Time at Pocono Downs
6:30pm: Tuesday, Wednesday, Friday & Saturday
---
Pocono Downs Track Code
PCD
---
Pocono Downs Wagering
---
Current Weather Conditions at Pocono Downs
Pocono Downs Contact Information
Mailing Address:

Mohegan Sun At Pocono Downs
1280 Highway 315
Wilkes-Barre, PA 18702

Website: www.mohegansunpocono.com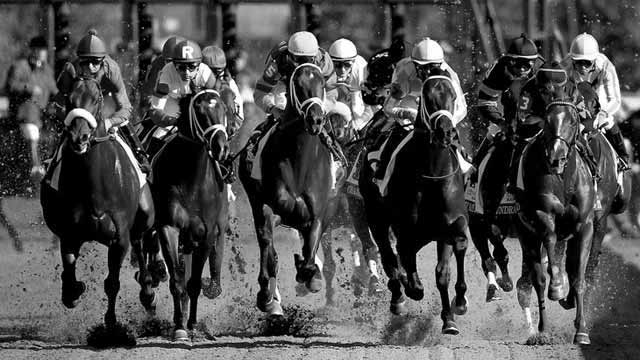 Bet Horse Racing with OTB