Delaware Park

Delaware Park (also known as DelPark) is an American horse racing track, casino, and golf course in Stanton, Delaware. It is located just outside the city of Wilmington, and about thirty miles from Philadelphia.
---
Delaware Park History
William duPont, Jr. a designer of twenty-three racing courses, designed and built Delaware Park Racetrack in partnership with Donald P. Ross. Phillip T. Harris of Media, PA., was hired as the architectural engineer. The facility opened on June 26, 1937 and today is the only thoroughbred horse racing track in the state of Delaware. Races are run from April to November.
Race purses have increased in recent years owing to increasing casino revenues. With the United States national average horse racing purse of $20,762 in 2005, the average 2005 purse for DelPark of $30,650 has helped to attract more talented contenders and more first-time competitors to the venue for the 2005 and 2006 racing seasons. The 2005 average purse for DelPark placed Delaware fifth among states of the United States; the first rank for average purse was held by New York at $41,229 per race. In recent years, near-Triple Crown winner Afleet Alex and Kentucky Derby winner Barbaro, both won their career debuts at Delaware (Barbaro did it on the grass at 7-1), and the sprint champion mare Xtra Heat was based there. The track is now home to many horses who routinely ship to and win at the major circuits in New York, Florida and Kentucky.
Delaware Park is also the only mid-Atlantic track to regularly card Arabian races. The area has a strong Arabian and equestrian population. Michael Matz, Barbaro's trainer, won the silver medal in the equestrian events at the 1996 Summer Olympic Games in Atlanta, Georgia. Matz is one of several mid-Atlantic trainers to perform on the national stage, along with Barclay Tagg, perennial leading trainer Tim Ritchey and J. Larry Jones, trainer of 2007 Kentucky Derby runnerup Hard Spun, who is also based at Delaware Park. Jones also trained the ill-fated Eight Belles, who also broke her maiden at Delaware before going on to finish second in the 2008 Kentucky Derby prior to her untimely death post-race.
---
Delaware Park Live Horse Racing Schedule
Monday through Wednesday, Saturday
---
Delaware Park Layout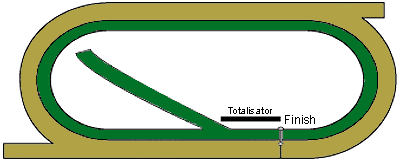 Main Track:One Mile, oval.


Turf Course:Seven Furlongs.
Distance from last turn to finish line: 995 Feet

---
Post Time at Delaware Park
1:15 p.m. E.T.
---
Delaware Park Track Code
DEL
---
Current Weather Conditions at Delaware Park
Delaware Park Graded Stakes Races
Delaware Park Contact Information
Mailing Address:
Delaware Racing Association
777 Delaware Park Blvd
Wilmington, Delaware 19804
Street Address:
Delaware Racing Association
777 Delaware Park Blvd
Wilmington, Delaware 19804
Website: www.delawarepark.com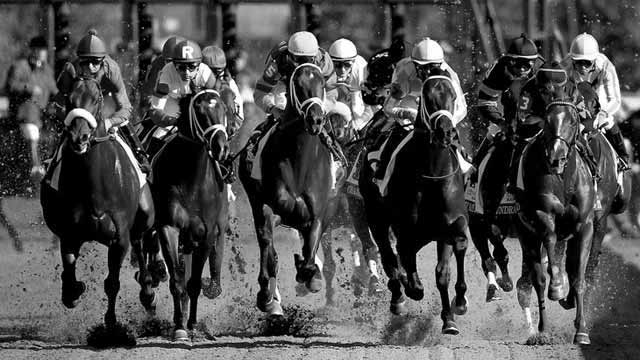 Bet Horse Racing with OTB