HORSE BETTING NEWS

Page 354 of 3,545 results (0.03 seconds)
---
July 11, 2011 -- Online horse betting for many handicappers is all about speed. There are some bettors who make their horse bets based solely on the speed figures they see in the Daily Racing Form. Should you be basing all of your handicapping on speed?
---
July 7, 2011 -- One of the most important horse races this weekend will be the $500,000 Hollywood Gold Cup at Hollywood Park on Saturday, and ESPN will be showing the race live. The 72nd running of the Gold Cup is part of the Breeders' Cup "Win and You're In" series so the winner of this race will get an automatic spot in the $5 million dollar Breeders' Cup Classic at Churchill Downs in November.
---
July 5, 2011 -- When people handicap horse races, they usually look at factors like speed, the trainer, the jockey, class, distance, etc. A factor that is sometimes forgotten in horse betting is pace. Let's take a look at pace and how it can be used to pick winners in horse racing.
---
July 1, 2011 -- The premier horse race this weekend is the $750,000 United Nations Stakes at Monmouth Park. A field of 10 horses will go a mile and 3/8 on the turf led by Chinchon who is the 5-2 morning line horse betting favorite. The United Nations Stakes is part of a 12-race card on Saturday at Monmouth that also includes the $200,000 Salvator Mile.
---
June 27, 2011 -- Did you know that favorites in horse racing win about a third of the time? Since favorites win quite a bit you might be wondering if you can make money betting them on a regular basis. The answer is yes and no. You can make money betting on favorites but only if you are selective. Let's take a look at what that means.
---
June 24, 2011 -- The biggest horse racing card of the season at Prairie Meadows is on Saturday, highlighted by three Grade 3 stakes races. Awesome Gem is favored in the $300,000 Cornhusker Handicap, Astrology is the horse betting favorite in the $250,000 Iowa Derby and Daisy Devine is the morning line choice in the $200,000 Iowa Oaks.
---
June 20, 2011 -- Horse betting systems have been in use for many years as many people love to bet on horses. There are two main questions we need to answer about horse betting systems which are -- do they work, and which ones are the best?
---
June 16, 2011 -- Champion filly Blind Luck is the off track betting favorite in the $250,000 Vanity Handicap at Hollywood Park on Saturday. The Jerry Hollendorfer trained 4-year-old has won 10 of her 19 lifetime starts for more than $2.6 million dollars.
---
June 13, 2011 -- When it comes to making money at horse betting, there are countless systems that gamblers try. You have some that focus on trainer-jockey combinations while others look at things like class, pace or speed. The problem with horse betting systems is that none of them will work all of the time. What if there was a horse betting system that actually worked and didn't rely upon different factors to get you money? There is something that does that although it really isn't called a system. It is called a horse betting rebate.
---
June 9, 2011 -- The biggest race in New York takes place on Saturday with the 143rd running of the Belmont Stakes. Even though no Triple Crown will be on the line, there is some excitement for this year's race with Kentucky Derby winner Animal Kingdom and Preakness winner Shackleford both in the race. A field of 12 will be going a mile and a half with post time at approximately 6:35 pm Eastern.
---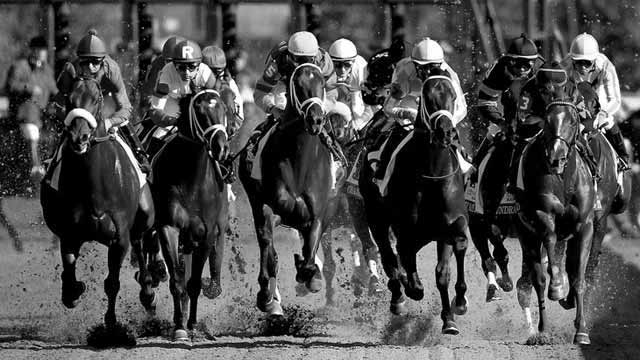 Bet Horse Racing with OTB